The Best Printers for Small Offices
Andrew Miocevich
May 13, 2019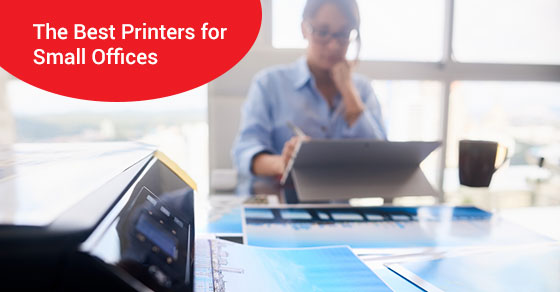 With literally thousands of different printers to choose from, deciding on which printer to go with for your business can be an overwhelming task. However, you can narrow your search by researching printers that were designed for small offices. You should look for a printer that provides multiple different functions, reducing the number of devices needed to perform daily office tasks.
What's more, a polyvalent small office printer will also reduce your costs, and will also take up less space in your small office, which is an absolute must for a small office where saving space is of the utmost importance. Here, we discuss some of the best small office printers on the market from some of the most reliable and reputable brands on the market.
Sharp MX-C300W
One of the biggest advantages of the Sharp MX-C300W is its compact size, which makes it a superb choice for small offices where saving space is a top priority. However, while it is a compact unit it also boasts impressive power. It will perform very well for smaller workgroups as well as individual workers.
A Sharp MX-C300W unit prints in high-quality colour, and also includes fax, print, copy, and scan functionality, making it a highly versatile machine that will perform the duties of multiple office appliances. In terms of PPM speed, the printer boasts 30 colour and 30 monochrome and supports wireless, Ethernet, as well as USB connectivity depending on your office's needs.
Xerox VersaLink C405
The Xerox VersaLink C405 is a very user-friendly and multifunctional printer that is compact and also very affordable, making it an ideal choice for small offices that are tight on budget as well as on space. It outputs in vibrant colour and is very easy to use, allowing for high quality, in-house printing, and also supports mobile applications.
You can print at your home, at the office, or even on the go via its smartphone printing features. In addition, the Xerox VersaLink C405 supports wireless, Ethernet, and USB connectivity and also serves as a fax machine, scanner, printer, and copy machine. In terms of its PPM speed, the Xerox VersaLink C405 boasts 36 colour and monochrome.
Xerox ColorQube 8700S
The Xerox ColorQube 8700S is unique, in the sense that it is the first desktop solid ink device on the market that was engineered from the ground up in order to provide bona fide multifunctional performance. In other words, the Xerox ColorQube 8700S provides state of the art copy, print, and fax services in one convenient and compact package, making it the quintessential choice for small businesses that have limited office space and a small budget to work with.
A highly innovative device that reflects the long-serving tradition of ingenuity and excellence that Xerox is known for, the Xerox ColorQube 8700S boasts a PPM speed of 19 colour and 19 monochrome, meaning its output for both colour and monochrome prints is the same. In sum, the Xerox ColorQube 8700S offers environmentally preferable features, high-quality images, as well as a price that is hard to match.
HP Officejet 150 Mobile All-In-One Printer
The HP Officejet 150 Mobile All-In-One Printer is a small office printer that is designed for business owners who are constantly on the go. As such, the HP Officejet 150 Mobile All-In-One Printer is not only a state-of-the-art mobile device but is also very compact, making it a superb choice for business owners who have limited space to work with.
The HP Officejet 150 Mobile All-In-One Printer also provides impressive printing, copying, and scanning functionality, and boasts a PPM speed of 22 monochrome and 4 colour, making it an excellent option for those who mainly print in monochrome. Also worth noting is that the HP Officejet 150 Mobile All-In-One Printer supports both USB and wireless connectivity, allowing users to enjoy high-quality printing wirelessly via their mobile device or via their PC.
In sum, you can copy, scan, and print from virtually anywhere on the globe using this compact, affordable, and highly versatile printer device.
For more help choosing the right office printer for your small business, call DOS Canada at 1-647-547-9867 or contact us here.