How to Avoid the 4 Most Common Printing Mistakes at Your Office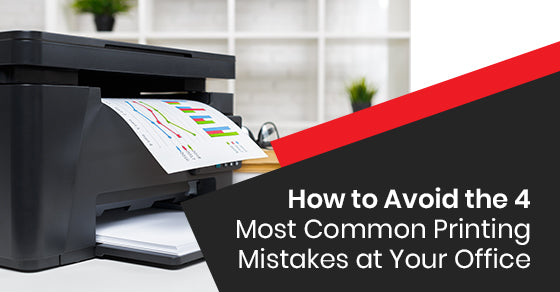 Your office printer will frequently be forced to work overtime, especially during the busiest times of the year. Furthermore, given the number of workers who use your office printers on a daily basis, there is a very high probability that mistakes will be made from time to time.
Some mistakes are more severe than others, and there are certain areas where workers will be far more likely to commit errors. Here, our focus will be on the most common printing mistakes that are made regularly in offices around the city, as well as other parts of the business world.
The Confidential Information Faux Pas
The good news is that most employees tend to be quite prudent when it comes to keeping confidential data safe. For example, most employees who value their jobs will not simply let confidential printouts sit on the paper tray, and instead will collect the data as soon as it is printed.
However, accidents do happen, and people may become distracted from time to time. For instance, they may be called into an emergency meeting and may not be able to gather the documents as soon as possible.
Or, they may become tied up in an important business call with a customer or client and may forget to pick up the document that they printed a few minutes or seconds ago, or simply may not be able to due to the urgency of the call.
Such issues can quickly become a thing of the past with the right printer as well as the right printer setup. For example, printer software that is available on the market today has been enhanced to the nth degree, and many modern printers will actually wait until the employee who printed the confidential documents to arrive at the printer before the data is printed for them to be collected.
Paper That Doesn't Load as Intended
Unless you are the owner of a particularly fortunate enterprise you will likely not have a dedicated employee available to take care of the paper loading for your printer or printers. As such, the chances are quite high that any and every worker who is employed at your business will be responsible for reloading your printers at some point during their employment tenure.
Ergo, you may have to deal with improperly loaded paper at some point, but this common issue can easily be solved by teaching your workers how to properly load your printer. The good news is that the majority of reams of paper are quite user-friendly, so you shouldn't have too much trouble teaching your workers how to load your printer efficiently.
Most reams of paper should include an arrow indicator right on the package so that anyone who sees it will know which way is up before loading the paper tray.
Throwing Old Cartridges in the Garbage
Most offices in the city will run through a gamut of print cartridges throughout each and every year, with most being thrown into the closest receptacle without a moment's hesitation. However, being negligent with waste can lead to destructive consequences, especially given the rise of global warming and other ecological issues.
In addition, many people are unaware of the fact that printer cartridges are recyclable, and many are simply dumped into landfills where they will rot and contribute to land, air, and water pollution.
The good news is you can create brand awareness by being an environmentally conscious business, encouraging other local businesses to follow your example. For instance, you can jumpstart a toner cartridge recycling program and ensure that all of the empty printer cartridges are reused.
Interestingly, many third-party printer cartridges that are sold today are actually made with recycled materials, so you can help imbue your old cartridges with new life by shipping unwanted cartridges to a recycling plant so that they can be reused by other businesses.
Constantly Printing High-Quality
A very common issue that plagues many of today's offices is that workers will print in colour all the time. However, an even more common issue is that most employees will not bother to check the quality mode that the printer is set to before they print their documents.
In other words, the default mode on your printer may be set to "high quality" mode, and your employees may not bother to change it when they print.
As such, the higher quality setting will force your printer to work harder to generate the higher quality, which will lead to more toner or ink being used than actually desired. The good news is that most modern printers include a management tool that can be configured remotely, so you can change the default mode to "economical" mode if you want.
Your printer will save more toner or ink when it prints, unless someone specifically changes the mode to the highest level for documents that need to be of the highest quality, say for a very important client presentation.
Moreover, you should also be able to modify the resolution as well as the print density of each printout, ensuring that you are in full control of the quality of your printed documents.
If you would like to learn more about common office printer mistakes, call DOS Canada at 647-557-1788 or contact us here.