Reasons You Should Have an Interactive Display System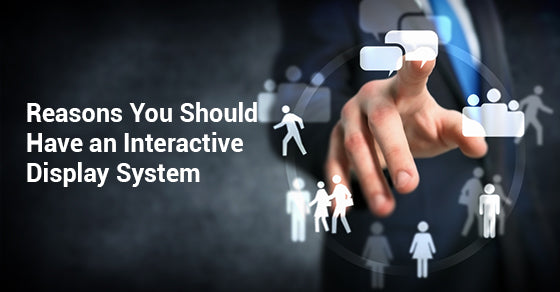 When you have meetings at your office, discussions will be had and brainstorming will take place. Often great ideas will be exchanged and teamwork, as well as company culture, will be encouraged.
However, trying to convey and exchange vital company intel can prove to be very difficult, especially when large groups of employees or investors are involved. Trying to capture and retain their attention can also be a difficult task, so you will need to devise a strategy that will ensure that everyone is on the same page.
The good news is you can achieve your meeting goals via a state-of-the-art Sharp Aquos Board. Here, our goal will be to provide you with just some of the reasons why your business should have an interactive display system.
Multi-Purpose Features
The Sharp Aquos Board is far more than just an interactive display system. It is a top of the line tool that will take your boardroom and investor meetings to another level. Your presentations will be more immersive and engaging, and your employees or investors will be able to communicate far more effectively with one another.
While the screen is interactive, it is also rather large, which makes it an excellent choice for a variety of different scenarios and situations. It can be used to engage with your audience members if you are a motivational speaker or keep your students alert if you are a college professor.
Amazing Screen Size
In reality, it only takes 4 seconds to make a good—or bad—first impression, so you will want to go big to dazzle your audience. The good news is that the Sharp Aquos Board screen is a full 80 inches. Its diagonal display is truly mesmerizing and will help bring even lacklustre presentations to life in stunning full high-definition. The end result is that you will be able to bring your presentation to life and ensure nothing is left behind.
Unrivalled Visual Fidelity
The Sharp Aquos Board goes above and beyond the call of duty to deliver UV2A photo-alignment technology, so that you can enjoy colour images that are vivid but also energy efficient.
As a result, your viewers can enjoy uniform brightness while they follow your presentation, and the text that appears on the screen will also appear to be very legible so that even people who are visually impaired will be able to read the text without issue. In fact, the Sharp Aquos Board is so ahead of the curve that it boasts five times the brightness of plasma displays while only consuming a third of the power of most of them.
User-Friendly
Its user interface is also the best in the business. For instance, its pen functions and settings are easy to utilize as well as locate. Each touch pen has a dedicated menu to access, and you or your employees can configure individual settings for each, such as different colours and line thickness.
What's more, up to four different people can write on the screen at the same time if needed, and the included software and pens feature unrivalled accuracy so that users can enjoy optimal usability and precision.
Best Connectivity in the Industry
You can also connect most interactive displays to your mobile device, to enhance communication but also improve audience participation as well. In fact, anyone in the room can view handwritten notes as well as real-time drawings simultaneously on an interactive display—like the Sharp Aquos Board—or their mobile units.
As such, an interactive display comes highly recommended for discussions in various settings, as well as for interactive meetings and presentations.
Other interactive functions can also be accessed via wireless LAN, including, but not limited to, interactive drawings and writing, document transfers, and the sharing of any on-screen content. Further interactive functions can also be accessed via your mobile devices, such as being able to control the interactive display remotely from any connected mobile devices in the office.
In fact, up to fifty different mobile devices can be connected simultaneously if needed. If you need even larger-scale interactive communications, you will have the option to connect two displays on the very same network without latency or other related issues. The Sharp Aquos Board is a very versatile device, and its Sharp Display Connect software, and MFP connectivity makes it a second to none device for office communications.
To learn more about the benefits of an interactive display system, call DOS Canada at 647-547-9867, or contact us here.