The Ultimate Office Supply Checklist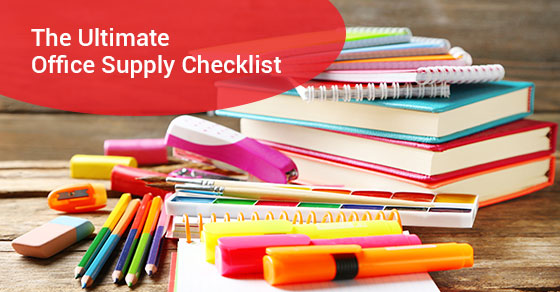 With more and more competitors quickly filling up every niche in the market, companies need to be prepared by using the best office supplies on the market. If you are planning on restocking your office with supplies, then we can help. Below are some of the office supplies that you should add to your office to maximize productivity, and keep employees prepared.
There are many colours to choose from; including, but not limited to, black, red, blue, green, and purple. The ink is also alcohol based, and each marker has a fine marker point. Perfect for writing or drawing on surfaces that are hard to mark, the Sharpie Pen-Style permanent marker will quickly become a staple in your office.
Its fine-point tip produces lines that are both detailed and thin, and its pen-like stylings make it well suited for any project, as it is designed to make writing easier. The ink is also both fade and water resistant, and the ink also dries very quickly. And you don't have to worry about employees becoming sick from prolonged use of this marker, as the ink that its made of is non-toxic.
This binder has a 225 sheet capacity and 2 internal pockets. The overlays on the spine and cover are both non-glare and crystal clear, which will allow your employees to quickly and easily customize them. The metal rings are also back-mounted, which allows all of the interior pages to remain flat at all times. What's more, your employees will be able to store extra documents if needed in the 2 extra interior pockets that are housed within each binder. The binder is also made with a polypropylene that is PVC-free, ensuring both resistance and durability.
Lorell Aluminum Frame Dry-Erase Boards
With a width of four feet and a height of eight feet, the Lorell Aluminum Frame Dry-Erase board boasts a very sturdy frame made with aluminum, as well as a pristine styrene surface that is laminated. Ghosting and scratching will also become a thing of the past, as the state of the art board has a surface that is resistant to such issues and is very easy to clean. Its four-corner mounting system allows the board to be mounted easily if needed and includes an eraser holder and a marker holder that can prove to be quite handy.
This daily appointment book will allow you to keep track of up to four employees' work schedules at any given moment. It is recommended for companies that hire contract workers or have smaller work groups. A third of the appointment book is made with post-consumer material, and it boasts a black simulated leather cover as well.
Its dated planning pages range from January to the end of the year in a 1 page per weekday format. Each day offers quarter-hourly appointment times from 7 AM to 7:45 PM on weekdays and until 5:45 PM on Saturdays, four columns per page, ruled notes area, count of days/days remaining, holidays, and three past, current and four future months reference.
The Sparco Removable Tray Cash Drawer mounts below and above the counter and includes holding brackets. The drawer comes with button release and key access configurations for flexibility, and has a removable tray that comes equipped with its own top-of-the-line keylock and cover. Very easy to install, an alarm will be triggered whenever the drawer is opened, and, when needed, the alarm bell can be deactivated.
This leading-edge desktop organizer includes 5 spacious compartments and is available in black steel design. In addition to its 5, 1-inch vertical file compartments it also includes 3, 1-inch horizontal letter-size trays as well. With this organizer, your employees will be able to access their files and documents with ease, while also keeping their most important data highly organized. The black powder coat finish is manufactured with a durable steel mesh that is made with recycled components.
These envelopes are ideal for people who are averse to germs, as they require absolutely no moisture in order to seal. All you need to do is remove the strip and close the envelope. The adhesive on each envelope is protected against dust and other particulates thanks to the included protective strip, and each envelope boasts a security tint in order to ensure privacy. Each white box comes with 500 envelopes.
For more of the best office supplies call Direct Office Solutions at 1-647-557-1788 or
contact us here
.