What is a Sharp Aquos Board and Why You Need One in Your Boardroom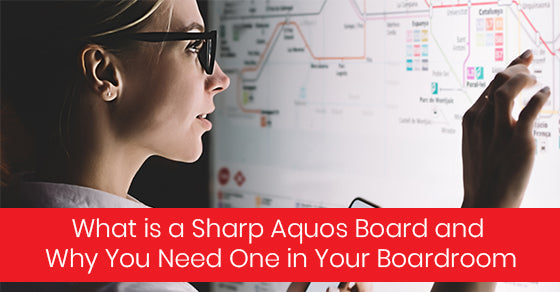 If you are thinking of updating the way you communicate with your employees, then it may be time to throw out your antiquated whiteboards and chalkboards and introduce a Sharp Aquos Board to your office.

You can use your state-of-the-art Sharp Aquos Board to have a boardroom meeting with your affiliates or other members of your staff. You can also use it to hold a seminar or training session in order to educate your existing employees or train new recruits. Here, we will focus primarily on what a Sharp Aquos Board is and why you should take advantage of its features for your boardroom.
What is a Sharp Aquos Board?
A Sharp Aquos Board is a cutting edge multimedia hub designed to make communication effortless, seamless, immersive, and interactive. It consolidates the functionality of a projector, touch screen computer, conventional whiteboard, and television into a single unit. Thanks to its myriad of revolutionary features, and its space-saving size, it is used in today's classrooms to teach, as well as in modern boardrooms, to brainstorm and inform.
How it Works
The Sharp Aquos Board is a top of the line multimedia device that works with a revolutionary touch pen and is very responsive. Many employees can actually simultaneously write or draw on the very same touchscreen. The device also uses Sharp Display Connect software, which can allow you or an employee to share any modifications that are made to your presentation in real-time.

In fact, the digital technology that the Sharp Aquos Board uses allows you to share a live update to anyone attending your boardroom meeting if you wish. You can also use the provided Sharp Pen, or your index finger, to emphasize certain subjects, make annotations, and highlight areas you wish to focus on.
Make an Incredible First Impression
It only takes a few seconds to make a good first impression on a person, including clients and shareholders. The Sharp Aquos Board can make a monumental difference and help your company stand out among its competitors, and get your message across with gumption and style.

There are different screen sizes to choose from, so you can go with a smaller display size to save space, or go with a screen as big as 80 inches if your goal is to make your presentation come to life in stunning 1080p full HD quality.
Cutting Edge MFP Connectivity
You can also use your Sharp Aquos Board to scan multiple images and documents via a Sharp MFP that is colour-scan enabled. You can then import your images and documents to the pen software display them on the board for your employees or clients to see. As an added benefit, you can conveniently save notations, as well as image data displayed on the screen, to an MFP for printing purposes or to a personal computer if desired.
Sharp Aquos Board's Benefits
You can take advantage of the revolutionary interactive display system of your Sharp Aquos Board to amplify the success of your boardroom meeting. The state-of-the-art touch-screen can help get your audience involved and give your message the impact you want it to have. From a training session and boardroom to the classroom, the possibilities are nearly infinite when you have a Sharp Aquos Board Interactive Display System as part of your arsenal.
Sharp PNL8030C 80'' Aquos Board
The Sharp PNL8030C 80'' Aquos Board is a new and revolutionary entry into the Sharp Aquos line and supports display port, VGA, and HDMI output. It serves as a superlative collaboration tool that can really help increase the impact of your corporate message, in mesmerizing, Full-HD. It also features edge-to-edge glass, as well as a leading-edge, capacitive, multi-touch, ten-point screen.

The interface is so responsive and user-friendly that it will feel like you are writing directly on a standard whiteboard. What's more, up to four people can write on the board simultaneously, which is ideal for think tank sessions with multiple team members. It's great for classrooms, training seminars, conference meetings, as well as boardrooms, making it one of the most polyvalent communication devices in the market today.
Sharp Aquos Board Full-HD 60IN Class
If you are looking for something more compact and less expensive then the Sharp Aquos Board Full-HD 60IN Class will fit the bill nicely. It supports VGA and HDMI output and will ensure that everyone in your boardroom is focused and engaged in the discussions. It also boasts a Sharp Pen interface that is very intuitive, built-in speakers, and an anti-glare film that will minimize fingerprints and glare.

Reliable performance is also guaranteed, as you can run the device for sixteen consecutive hours without issue, and up to fifty mobile devices can be connected at once if needed. What's more, the device utilizes a handwriting recognition function that can convert highlighted handwriting on the screen into standardized text for easier legibility.

To learn more about the Sharp Aquos Board and how they could help your business, call DOS Canada at 1-647-547-9867 or contact us here.