3 Tips When Choosing Your Next Printer or Photocopier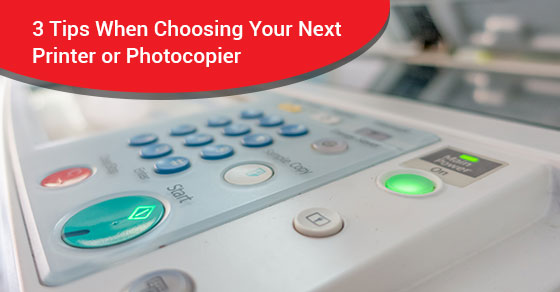 If you own a business and want it to succeed, then you will likely seek out the best office Equipment to help ensure that your operation runs smoothly and that your employees have the right tools to maximize their productivity. As such, choosing a new photocopier or printer can be a daunting task for many business owners, as there are literally hundreds of models and suppliers out there, all claiming to be the best at what they do. Here, we discuss some tips that may help make your next printer or photocopier selection a little easier.
Pick The Right Salesperson
If the salesperson who arrives at your office or who calls you seems suspect then you should move on as soon as possible. However, if they seem credible and honest then they may be a superb option, as a salesperson is essentially a reflection of the company or supplier that they represent. As such, if they seem professional then it is more than likely that the company they work for is also professional and transparent.
Also, many supplier contracts can range anywhere from three to five years, so selecting the right supplier is a very important decision that you should not take lightly.  As such, listen carefully to the answers that the salesperson provides to your questions. Do they appear honest and credible? Do they appear knowledgeable about printers and photocopiers? Do you think they are someone that you can rely on in the future and have they listened carefully to your unique needs and requirements? If you have answered "yes" to all of the above then they are likely the right salesperson for your company.
Pick The Right Company
When deciding on which company to go with you will receive multiple quotes from multiple companies. Many businesses will simply go with the biggest or most popular supplier because they are a brand that is recognized around the world.  In some cases, this may be the right option for you. For instance, the biggest companies will likely come out with new, state of the art printers and photocopiers every year, which some bigger, tech-oriented enterprises may benefit from. 
They may also offer their clients earlier upgrades than smaller suppliers. However, to some bigger companies your business in just one of the hundreds, if not thousands. In other words, you may just be a number to them, and it may be difficult to get timely and personalized service when they have to deal with thousands of customers from around the world.
In some cases, then, going with a smaller company, that is based in your city, may be a better option. Take the time to research different companies and determine what the unique needs of your company are before deciding on which supplier to go with. For instance, for smaller businesses or start-ups a smaller, local company may be the better option. They will likely also offer the same models as the bigger companies but may have a local customer service centre where you can obtain quick and personalized service. They may also offer rebates or discounts to their loyal customers that the bigger companies won't offer in order to remain competitive with the multinational conglomerates.
Pick The Right Machine
Perhaps most important of all is selecting the printer or photocopier that best suits the unique needs of your business. More often than not a company will simply purchase several different printers and photocopier machines because they are bundled together or because their marketing specialist saw a commercial that seemed appealing. However, it is best to perform your own independent research in order to select a model that will gel well with your company's way of printing.
For instance, if you own a small business that prints or photocopies sporadically then perhaps spending more money on a state of the art printer or photocopier with high specs and all the bells and whistles isn't right for you. Evidently, if you own a large company that prints and photocopies hundreds, if not thousands of documents every day, then a high tech, high volume printer or photocopier, that is known for its durability, reliability, speed, efficiency, cost-effectiveness, and quality, is virtually a requirement.
If you're still not sure in terms of which model to go with then ask the supplier to provide a printer audit. A printer audit consists of doing a reading on a printer or photocopier and then performing a second evaluation a month or so later to determine how the machine is being utilized. For instance, the auditor may determine that the machine is primarily being used to print in colour, or they may determine that most of the prints are in monochrome.  Perhaps the unit is mainly being used in A3 or it may be used mainly in A4. Based on the audit, the Account Manager will provide you with suggestions that may help you determine if the printer and photocopier you are currently using are best suited for your company's needs. 
DOS Canada
If you are in need of premium quality office supplies at a consumer-friendly price then we can help. DOS is an office supply company that provides top of the line, multifunctional printers and photocopiers, office supplies, managed print services, and software solutions that will increase productivity and lower costs. At DOS we are strongly committed to going above and beyond the call of duty to not only foster customer satisfaction but customer delight.
After all, a happy customer is a loyal customer, and our dedication to attentive and cordial service, that places our customers' unique needs over the bottom line, have allowed us to become Ontario's number one choice for customized office solutions. To learn more about our cutting edge products and services please
visit our website.
You can also call us for a quote and consultation so that you can discuss your unique needs with our customer care specialists.