4 Foolproof Business Communication Tools Every Company Should Be Using
Andrew Miocevich
Dec 06, 2018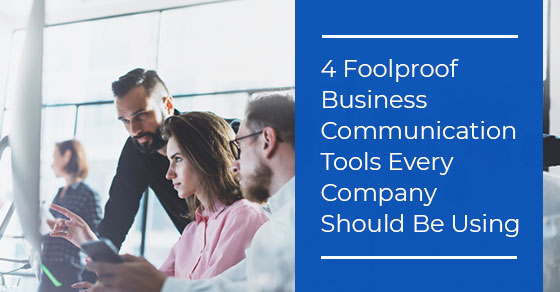 In order to be productive wherever you are on the globe, boost efficiency across the board, enhance worker motivation, discover new and user-friendly solutions, and streamline IT management, businesses need to adapt to a perpetually evolving industry. One of the key areas where changes need to be made is communication. Today's top of the line communication tools can help small, medium, and even big companies solve all of the aforementioned issues and more. Below are some foolproof business communication tools that every company should use to stay competitive and profitable.
Social Intranet Software
Even the best and most organized companies will go through a phase where internal communications are less than optimal. More often than not, an IT department will simply go forward with new technology without asking why it's being implemented in the first place. The solution to these issues is to first identify the red flags that can lead to a communication breakdown. For instance, pertinent documents may become lost in a glut of emails or go missing altogether. Your company may also lack a standardized and clear orientation policy for its new interns or new workers. Or, perhaps your company suffers from having too much paperwork or lacks a streamlined approach for employees to stay abreast of company news and announcements.
By using social intranet software, your company can have its very own central portal where your employees can access all of the most important contracts, communications, information and documents from one hub. You will also be able to cut your IT maintenance costs by using social intranet software. Having an intranet solution will also help make your workforce more flexible, as more and more companies offer telecommuting and BYOD options to some of their employees. This, in turn, will boost productivity because all of your workers will be working towards the same business objectives.
Chat Tools and Private Group Messaging
In order to keep your corporate teams working together, creating collaborative spaces with chat capabilities and private group messages should be a priority. By doing so, your managers will be able to communicate with their team members as well as obtain important updates in the form of progress reports on various projects.
These spaces are even more important if a company's employees live and work in different time zones. An intranet chat service that is dedicated will allow all of your employees to chat with each other with the click of a button. Employees can even use a drag and drop function so that they can share files with each other or search for a conversation or contact in order to refer to something or someone from the past.
Ticketing, Issue Tracking and Cases
Using issue tracking software will allow your workers, as well as your clients, to submit a case, get it assigned to the right worker, and have it resolved in the nick of time. It is a superb internal communications tool that is a must in an age where clients want to be able to communicate with their providers via a plethora of different communication channels.
In reality, many clients become frustrated, as they are usually not assigned to the right department or employee to solve their problems. Call volumes also continue to go up, which leads to longer waiting times, and client questions are often lost or misunderstood.
The good news is issue tracking software will help track team productivity as well as open issues, and will also centralize client support questions. Moreover, it will prioritize the most relevant or pertinent queries, as well as collect very important and useful feedback from your customers so that you can improve your services and products for them. At the end of the day, a happy customer is a loyal customer, so going above and beyond the call of duty to foster customer delight is a must in order to stay afloat in an increasingly competitive market.
Internal Videos and Blogs
In order to engage readers, content needs to be well written, interesting and persuasive. The content must also appear enticing so that readers will become hooked quickly. As such, even your internal teams will require high-quality content in order to remain motivated and engaged. If your company generates mediocre or abysmal content, then you will likely receive little to no feedback from your workers, and the ratio of lurkers to engaged participants will only increase.
Hence, the type of content that your company produces can affect employee engagement and morale, and you can help rectify the problem by generating content that uses appealing images and mesmerizing videos. In fact, studies have found that the human brain processes visual information 60,000 times quicker than static text.
As such, you should use videos and images throughout your intranet. You can also improve employee engagement via infographics. Examples may include motivating video messages from managers, informative training videos, as well as interesting behind the scenes footage. In sum, infographics are ideal for marketing departments and serve as a visually appealing and engaging way to convey a message in a simple and quick manner.
If you are in need of cutting-edge communication tools in order to gain a serious edge over your myriad competitors, then
DOS Canada
can help. We provide
state of the art software solutions
that will streamline workflow automation, accounting and cost control, document management, variable data printing, and mobile applications. To learn more, call DOS Canada at 1-647-557-1788, or
contact us here
.