Inkjet vs Laser: The Right Printer for You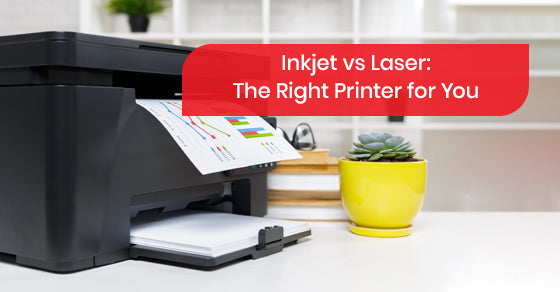 If you are not sure of whether to go with an inkjet or a laser office printer then you've come to the right place. With so many different office printers to choose from, deciding on which will best fit the needs of your business and your employees can prove to be a challenging task. In order to better determine which is best for your business, you will need to determine what your monthly print budget is, how often you print, as well as what types of files or documents that you print at yowe will helpur office. Here, you decide which of the two main printer types is best for you.
Compare and Contrast Printers
Laser printers tend to cost more than inkjet printers, at least up front. The toner cartridges that they use also tend to cost more than their inkjet counterparts. However, the total or final cost of ownership tends to actually be lower with laser printers. Moreover, the overall cost per page printed is also less expensive, and laser printers also boast higher speeds, in general. As for inkjet printers, they also have certain unique advantages.

For instance, inkjet printers are able to print both high-quality images, such as photos, as well as text files or documents as well. They also tend to be more compact, and, as mentioned, tend to have a lower upfront cost than their laser printer counterpart. However, if you decide to invest in a cheap inkjet printer then be forewarned that they will end up costing you significantly more in the long run.
What will you use your printer for?
If you only print on occasion, many people will suggest that you buy an inkjet printer. However, the biggest caveat with inkjet printers is that their ink will dry up rather quickly if you don't use them frequently. This is in stark contrast to laser printers, where you will never have to worry about the toner drying up. If you are able to afford a modestly priced laser printer, then we would suggest that you do so for your office printing needs.
However, inkjet printers also have their merits. If you plan on printing coloured files and a small quantity of documents on a routine basis, then an inkjet printer should fit the bill nicely. Laser printers, on the other hand, are intended to print large volumes of both colour and monochrome documents on a frequent basis.
The next factor that you will need to consider is how often you print documents or photos in colour. If you are looking to print colour documents every now and then, then a colour laser printer will get the job done. However, if you are planning on printing very high-resolution photos that appear to be professionally done then a photo inkjet printer is the way to go. This is because state of the art photo inkjet printers have deeper blacks as well as more toner variety; both elements that creatives look for in a printer.
In addition, most photo inkjet printers use fade-resistant pigment-based inks, and accept a wider range of paper sizes as well as many different types of art paper. In summary, if you require professional photo printing that would look amazing in an art gallery then a photo inkjet printer is your best bet.
If you don't require an impressive level of tonal range or colour depth in your printed photos then we would suggest a colour laser printer instead for two reasons; namely, because you can print more pages via a laser toner cartridge and because laser toner will not dry up if it is not used for a prolonged period of time.
Print Speed and Volume Differences
Laser printers were actually designed for office use, and as such, tend to print faster. This also means that they usually yield a higher print volume per month. However, the speed will depend on how much you are willing to spend as well as the brand, as the print speed of a laser printer can range anywhere from 15 to 100 pages per minute.
As for inkjet printers, they tend to print roughly 16 pages per minute, which means they are not the ideal solution for workplaces that need to print large volume of documents in a very short period of time. Inkjet printers were initially manufactured for home use, however, it is also worth noting that laser printers are not invincible. If you try and print at a level that exceeds the maximum duty cycle per month then your laser printer will likely malfunction much sooner than intended.
Cost Differences
Laser printers
, as mentioned, tend to cost more upfront compared to inkjet printers. In fact, even the cheapest laser printers tend to cost roughly twice as much as the least expensive inkjet printers. However, one of the biggest issues with the cheapest inkjet models on the market is that they have a very high cost per page printed. Moreover, the cartridges that they use tend to have a print limit of only a hundred pages or so, meaning you will end up spending a fortune on cartridge replacements over time.
As for lifespan, the typical laser printer will last about 5 years, while a typical inkjet printer will only last 3 years. However, lifespan will be impacted significantly by frequency of use, as well as how well you maintain your office printer. In regards to the difference in cartridge prices, the initial cost of laser cartridges, which are sometimes referred to as toner cartridges, will also cost significantly more.
However, they also tend to print far more pages. For instance, a
HP 80x cartridge
may cost roughly $196.99, but will also boast a page yield of 6,900 pages, which amounts to a cost of 2.8 cents per page. By stark contrast, a Canon PGI-250Xl cartridge may only cost $24.99, but only has a page yield of 500 pages, which amounts to a cost per page of 4.9 cents.
To learn more about how to choose the right printer for you, call DOS Canada at 1-647-547-9867 or
contact us here
.