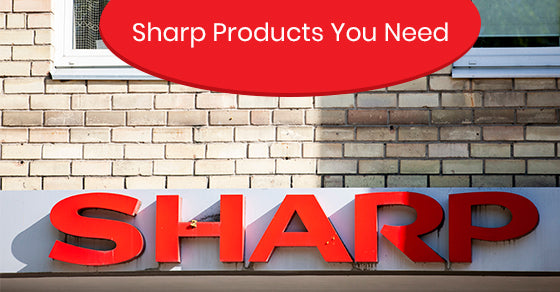 Sharp is a brand that has become synonymous with quality, reliability, and cost-effectiveness over the last decade. From state-of-the-art printers and multifunctional devices to their world-renowned Aquos Boards, there are a myriad of different Sharp products to choose from that can help your employees become more productive and help your company reduce its operating costs. Here, we will discuss some of the Sharp products that can help streamline workflow and give you an edge over other competing companies.
Sharp's Advanced Series of Printers
The standard resolution of Sharp's advanced series of printers is 1200 x 1200, while the maximum scan speed-or IPM-is 200. Moreover, both wireless and cloud connectivity are standard features with their advanced series of printers, as are the Adobe PostScript3 and Software Compact PDF suite. What's more, each advanced printer also comes fully equipped with a top of the line keyboard that can be retracted if needed, and scanning with a Microsoft Integrated OCR is also a standard feature with Sharp's advanced series of printers.
Sharp's Essentials Series of Printers
While all of the products that Sharp manufactures are state-of-the-art and of the highest quality, the essentials series is designed for companies who do not need some of the more advanced features that the advanced series of printers provide. For instance, Sharp's essential series of printers do not include a retractable keyboard, nor do they include scanning via OCR.

However, wireless connectivity, as well as cloud access, are optional features that can be added by the user in the future if they are needed, and the same applies for the Adobe PostScript3 and Software Compact PDF suite, which are also optional features. In terms of dpi, the standard resolution (dpi) is 600 x 600 for the essential series while the maximum scan speed (ipm) is 80.
Sharp's MX Series
If your business requires a printer that will integrate seamlessly with various Cloud-based services as well as various network applications, then the MX Series by Sharp comes highly recommended. The MX series is a highly versatile series of cutting edge printers that can not only print documents in high resolution but can also scan, copy, and fax documents as well.
Moreover, all of the multifunctional printers in the MX series have the ability to distribute intel via a large computer network. In addition, the interface is also smart-based, allowing employees to rearrange and drag documents, photos, and other such files with a quick swipe of a finger, as well as edit corporate documents with ease.
The control panel that comes standard with all of the leading edge printers in the Sharp MX series is also touch responsive, and the crystal clear LCD panel can also be customized according to your needs, so that all of your corporate printing, faxing, scanning, and copying goals can be met with a few quick clicks.
As an added bonus, the MX series of multifunctional printers are also very compact, ensuring that the printers can be placed almost anywhere in the office. This makes them ideal for startup companies and offices where saving space is a top priority. In sum, the Sharp MX series is highly recommended for both small companies where saving space is paramount as well as for large corporate offices, where speed, quality, versatility, and intuitiveness are of the utmost importance in order for office tasks to be completed without any backtracking or revisions.
Sharp's Aquos Boards
One of the most popular, and critically acclaimed line of Sharp products is their Aquos Board series. Sharp's Aquos Boards will revolutionize the way your business communicates, with highly interactive display systems, which allow workers to engage in a meaningful way during think tank sessions and boardroom meetings.
In the past, many companies would turn to notepads, typewriters or binders in order to take minutes, and many companies still do. Sharp's Aquos Boards will quickly render such antiquated note taking items obsolete. 
Sharp's Aquos Boards allow employees to share information effortlessly with their colleagues, without the need for clunky and cumbersome binders or booklets. They can also show prospective clients crisp images via the large 80-inch display as well as the luminous and vibrant LED lighting panel. Furthermore, the Aquos Boards can be used by up to 4 employees at once, thanks to the multi-responsive touchscreen, allowing for a lively exchange of scintillating ideas and dialogue.
In fact, the majority of Sharp's Aquos Board users have reported that the sensation is both natural and consistent when they write on the touchscreen, which can be explained by the advanced bonding technology developed by Sharp. One-touch operability also comes standard with each unit, which conveniently allows users to have full control if needed. This allows workers to focus on other, more pertinent tasks or content, in lieu of the board.
Sharp's innovative Aquos Board series not only reduces waste and improves employee productivity but can also help reduce your company's energy consumption rates and business costs.
If you would like to learn more about our top products by Sharp that virtually every business should own, call DOS Canada at 1-647-547-9867 or contact us here.