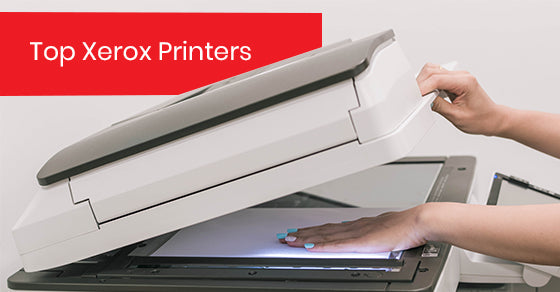 Xerox is a brand that is world renowned for its high quality, reliability, and dedication to customer satisfaction above all else. Moreover, thanks to recent advances in printing technology today's Xerox printers are highly versatile, allowing for offices to save space and money by having a multifunctional printer that can do more than simply print documents. Here, we will discuss some of the benefits of owning a Xerox printer as well as review some of the top Xerox products on the market today.
Why choose Xerox?
There are many reasons to own Xerox products, including state-of-the-art security features that are a cut above the rest, as well as very reliable paper handling and interfaces that are highly intuitive to help streamline projects. In addition, Xerox printers are known for being able to print large quantities very rapidly, while not compromising the quality of the prints in any shape or form. In other words, you can expect rapid prints that are also consistently crisp and without smudges.

As previously mentioned, Xerox also manufactures multifunctional printers which can do more than just print crisp documents fast. In fact, Xerox's multifunctional printers are equipped with many top-of-the-line features that allow them to become reliable, all in one, office aides; including, but not limited to, cloud connectivity via apps, stable wi-fi signals, and even responsive touchscreens that function similarly to today's most advanced tablets. In sum, Xerox has quickly become synonymous with technological innovation and ingenuity, as we shall see below.
Xerox WorkCentre 3225
The Xerox WorkCentre 3225 is a modern printer that serves as a multi-functional printer. Ideal for startup companies and companies where saving space is a top priority, the Xerox WorkCentre 3225 performs the duties of multiple different machines. For instance, it can not only print documents but can also fax, copy, email, and scan documents too.

In addition, this state-of-the-art printer also comes equipped with wi-fi connectivity, as well as USB and Ethernet connectivity for those who prefer a wired connection. Its speed is also quite good, as it can print 29 pages per minute and it also boasts automatic double-sided printing as well. We would recommend the Xerox WorkCentre 3225 for offices that need a reliable, all in one printer that is compact and also very affordable, as it can be purchased for as little as $400.

However, bigger offices that need a printer that can handle a large number of pages per minute may require something faster. The Xerox WorkCentre 3225 is also a monochrome printer, so if colour printing is a staple in your office then it may not be the ideal multifunction printer for you.
Xerox Versalink C8000
If you are looking for a standalone printer that produces unrivalled colour quality, then the Xerox Versalink C8000 is our top pick. It also boasts cutting edge wireless, ethernet, and USB connectivity and prints higher quality colour and black and white prints than the Xerox WorkCentre 3225, while also printing at a faster rate. That is, the Xerox Versalink C8000 can print 45 monochrome or 45 colour prints per minute, and it also includes Xerox ConnectKey, which serves as a smart-based workplace assistant.
Moreover, the Xerox Versalink C8000, while more expensive than the Xerox WorkCentre 3225, includes comprehensive mobile print support that is app-enabled and very feature-laden, ensuring that your workflow will be optimized for years to come. The superlative print quality that it produces in monochrome and colour will also ensure that your output will have an impressive edge that your workforce can be proud of.
Xerox Versalink B605
If price is not an issue, then you will be hard pressed to find a printer as versatile and impressive as the Xerox Versalink B605. Boasting a 250 GB hard disk drive, 150 bypass tray, 550 sheet tray, and 100 sheet DADF, the Xerox Versalink B605 is a premium quality multifunctional printer that will quickly pay for itself. Boasting cutting edge wifi, USB, and Ethernet connectivity, the Xerox Versalink B605 also provides print, scan, fax, and copy functionality, and can also print 2 sided documents.
Furthermore, this monochrome printer can print twice as many pages per minute as the Xerox Workstation 3225, albeit at a higher purchase price. Startup companies may want to invest in the Xerox Workstation 3225, but established enterprises may want to take advantage of some of the added features and benefits of the Xerox Versalink B605.
As for the Xerox Versalink C8000, while it doesn't print as many pages per minute as the Xerox Versalink B605, it does boast very high-quality colour prints, so if you frequently print a large volume of documents that need to appear photorealistic then it would be our top pick.
If you would like to learn more about the top XEROX printers, call DOS Canada at 1-647-547-9867 or contact us here.