Benefits of Managed Print Services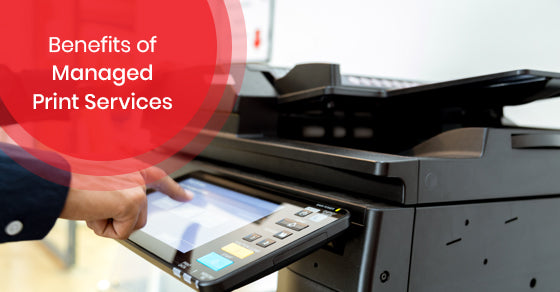 In today's new information age intel is crafted, processed, and shared very differently compared to the past. Today, companies communicate very differently, and not only use more devices than ever before, but also incorporate devices that are more complex as well. Moreover, print processes have also been affected by the fact that there has been a newfound shift from relying heavily on paper-based printing to more environmentally friendly and streamlined digital alternatives.

Here we will discuss some of the ways in which using managed print services can help lower your costs, help improve your security, and also offer your company more opportunities for profound business transmutation.
Enhance Your Security Features
Many documents that are printed in offices contain information that is highly classified. In fact, a recent study found that one out of three employees were able to access highly sensitive business data from an office copier or printer. The challenge, then, is to allow those who require your managed print services to be able to access them whenever they need to, as well as wherever they are on the planet, while also ensuring that company data is secure.

A good example of how state-of-the-art managed print services can help enhance your business's security is to create and implement standardized print security using proprietary biometric feedback devices, such as printers that will only turn on and print via a verified fingerprint signature. Or, the printers may require a pin number or code in order to work, or you can issue scannable print cards to designated personnel instead.
Print Documents from Anywhere
As more and more employees telecommute to work, or travel frequently for their jobs, the need for on-demand and versatile printing options has never been greater. As such, top-of-the-line managed print services can allow company employees to transfer their files across multiple platforms in a quick and efficient manner.

Managed print services can also allow authorized personnel to print via Mac, PC, or even their mobile phones or tablets. Today's scalable printing solutions will allow workers to print from virtually any mobile device, from nearly any part of the world, via a wireless network connection, or a simple email account.
Print and Scan via the Cloud
It is now possible to integrate cloud based printing and scanning into a proprietary managed print service. This will allow your employees to not only print and scan documents from nearly any location on the globe but also store them whenever and wherever they are. As an added advantage, workers will also be able to access, share, and store documents and files from any location and on any device while also ensuring that the data is kept confidential and away from cyber criminals and competing firms.
More Cost-Effective Printing
In some companies, the average cost per worker for print related activities can run upward of $10,000 per annum. As such, it is imperative that you are able to devise a comprehensive system that will accurately monitor, manage, and reduce print-related expenditures. This, however, can be a daunting challenge if you are currently using archaic printing machines that are isolated in several different departments across your establishment.

As can be seen, unmanaged and discrete printers can cause your annual costs to rise exponentially, but switching to an integrated printing network will ensure that all direct, as well as associated costs, will be known and managed as intended.
Make Your Employees' Lives Easier
In the past, printers were seen as obtrusive eyesores to be tucked away in the corner of the office, and only thought of when something needed to be printed. However, things have changed quite a bit since then, as today's best practice management solutions have transformed printers into integrated production centres that will make the lives of administrators and employees far more manageable and simpler.
Hassle-Free Infrastructure Management
A modern managed print service solution allows your enterprise to provide workers with the information and documents that they need, whenever and wherever they are needed, as the devised solution will be fit for purpose. In addition, the documents and files will be in the right form from the very beginning, which eliminates the need for infrastructure management; which will also mean a reduction in company expenditures as well.

In fact, a recent study found that certain modernized managed print services were able to reduce the number of print-related IT troubleshooting calls by customers by up to 25%.
A Single Point of Contact
By having access to a single supplier service site that is also very reliable and transparent, problems can be solved quicker, and units can be managed far more efficiently. This results in less time being wasted as well as fewer calls being made for help. What's more, you will also be able to both streamline your print capabilities by amalgamating your new and existing devices into a single network.

The end result will be that workers will be able to adopt an approach that is more sustainable, share information and collaborate more efficiently, and help facilitate consistency and compliance across multiple platforms and regions.
Improve Sustainability Efforts
Managed print services, when used properly, will allow your organization to rationalize your print infrastructure. That is, you can use managed print services to both change and manage your company's print behaviour, while also reducing wastage. In fact, some companies have been able to use their managed print services to cut their corporate paper and energy consumption by up to 60%
To learn more about the benefits of managed print services, call DOS Canad at 1-647-547-9867 or
contact us here
.