Things to Consider When Purchasing a Multifunctional Printer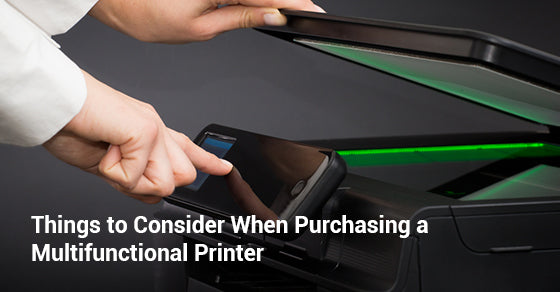 If you are thinking of buying a multifunctional office printer in Toronto, then there are many things you will need to consider. After all, competition is fierce, and you want your employees to maximize their productivity by being able to use a multifunctional office printer that is reliable, durable, quick, cost-effective, efficient, user-friendly, and versatile. Here, we will discuss some of the things that you may want to consider before you buy a multifunctional office printer for your business.
What do you need it to do?
First, you need to determine what your employees need out of the printer. Do you need a printer to copy and fax documents? Do you need a printer that will help you work remotely or help you streamline workflow around the office? Perhaps your staff need a printer that will scan files to the cloud or one that will not only help them manage corporate documents but also reduce the amount of paper being used every day at the office.
Quantity is also something that you will need to consider strongly. That is, you must carefully assess how often as well as how many faxes, scan, print, email, and copy jobs you plan on performing every day at the office. The number of employees that will use the device must also be strongly considered, as well as whether or not you want the device to be cloud and mobile-enabled.
Wireless connectivity is something you may or may not need. You should also look into how many colour documents your company prints, if applicable, as some printers will only print in black.
Be Aware of the Final Cost of Ownership
Some companies make the mistake of just looking at the starting cost of the device, without thinking of the long-term costs of the printer. That is, they may fail to look into the cost of supplies, and may only see the initial sticker price of the unit. For example, if you were to buy an inkjet printer, then you will also need to factor in the cost of ink cartridges into your purchase decision. This is because, while inkjet printers have a lower start-up cost, the cost of toner cartridges add up quickly, and, in the long run, an inkjet printer may end up costing as much, if not more than, a laser printer.
As with most things in life, you usually get what you pay for, and printers are no exception. While you may pay less in the beginning for a cheap printer, the long-term costs may end up being much higher when you factor in maintenance, repairs, replacements, and the like due to poor or unreliable performance.
Cheaper printers also tend to be lacking in the features department and tend to be less user-friendly. This can hinder work productivity and necessitate the purchase of a second, more efficient, durable, and reliable printer to compensate. This will lead to increased corporate expenses..
In sum, a multifunctional office printer is designed to make your life and the lives of your employees easier. It should be seen as an invaluable business asset that can help control and manage imaging and printing costs, and also add new and beneficial capabilities to your enterprise. The result is a boost in process efficiency as well as enhanced resource management throughout the office.
Look into Third-Party Data
We highly recommend that you compare and contrast the data provided by the vendor's spec sheets with that of independent testing agencies that do not have an ulterior motive. In other words, expected performance can vary greatly from real-world performance, so do not simply assume that a product is as good as the manufacturer claims it to be. Look into what experts have to say about the printer you are thinking of buying to determine if it is as amazing as the company claims it to be.
Look into its Security Features
Having a printer that can perform multiple tasks at once, in a user-friendly manner, is a huge asset. You should also look into how secure the device is before deciding if it is right for your organization. That is, many hackers can, and have, hacked into networks via a printer or other such devices to access valuable and confidential corporate data.
As such, you must ensure that the printer you buy employs state-of-the-art security vanguards to deter hackers from hacking into your company's network. The device must be scalable so that it can be modified and upgraded with the latest security measures and protocols to ensure comprehensive protection, 24 hours a day, seven days a week.
As an added plus, you should check to see if the manufacturer of the printer is partnered with an IT security company, such as Cisco or McAfee. If you want to prevent malicious attacks and data breaches, the printer you purchase will need to provide excellent data encryption, unit detection, and intrusion prevention solutions without exception.
The DOS Canada Difference
If you would like to buy a multifunctional office printer in Toronto, then DOS Canada can help. We sell various leading-edge multifunctional office printers from reputable brands such as HP, Sharp, and Xerox, and also offer office supplies, managed print solutions, and customized software solutions.
To learn more, or to browse through our printer catalogue, please contact us here or give us a call at 1-647-547-9867 for a free, no-obligation quote and consultation today. From standard supplies to state-of-the-art multifunctional printers, we are proud to be Ontario's go-to provider for premium quality office solutions.
Source:
https://www.xerox.com/en-us/small-business/insights/buy-multifunction-printer