Top Benefits of Buying Xerox Printers and Scanners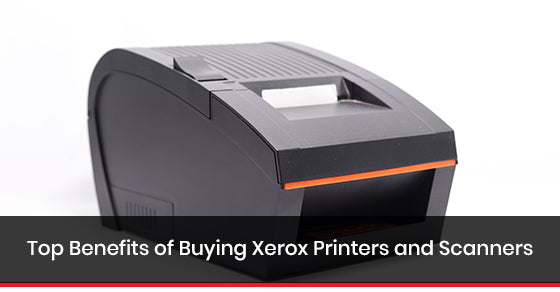 If you are in the market for a Xerox scanner or would like to learn more about Xerox scanners, then you will be happy to know that there are several models to choose from. They come at varying price points and have several versatile features.
However, due to all the variables, deciding on which Xerox scanner or printer to go with can prove to be a daunting task.
Here, our focus will be on the top benefits of buying a Xerox printer or scanner, as well as why going with a multifunctional Xerox printer may be the best option for your office needs.
Output Quality is Superb
Many people who need to make some photocopies will opt to go to a local store, as making a few prints or copies will not cost a lot of money. Or, if someone wants to make some photocopies while at home, they may decide to scan a document and then print it again.
Better yet, they may purchase an expensive multifunctional printer to get the job done; albeit the copy quality will not be as good as the original version.
If you decide to go with a Xerox printer, you can obtain a copy or print quality that matches or exceeds the quality of the expensive multifunctional printers that are used in printing stores. All this without having to pay as much to obtain the same results.
Xerox printers are known for their high-quality outputs without going overboard in terms of cost per print or copy, allowing users to enjoy the best of both worlds.
Multi-Paper Support
Occasionally, you may decide that you want to print a document or photo on a special paper type. Given the fact that first impressions are everything in the business world, choosing the perfect paper type may help augment the impact of your message or imagery, which may improve retention rates and conversions.
Many printers that are sold today lack the functionality needed to work with multiple paper types or may yield subpar performance with certain types.
Fortunately, Xerox printers are versatile enough to accept many types of paper. If you are looking for a printer that supports multiple paper types without any performance issues and are looking for the highest quality in terms of professionalism, then a Xerox printer should fit the bill nicely.
Quicker Startup Times
Some of the regular printers that are sold on the market, as well as certain laser models, may have issues with their boot-up times. It can take several minutes for your printer or scanner to startup before you can actually start printing or scanning documents.
However, Xerox products are known for their speed and reliability. This means you can turn them off when they are not in use without having to worry about boot-up times taking too long when you turn them on the next morning.
A Great Reputation
Another benefit of going with Xerox over other competing brands is the fact that Xerox has a strong legacy of quality, reliability, and cost-effectiveness.
When you buy a Xerox printer or scanner, you are buying into the Xerox brand as well. You can rest assured that you will be getting an excellent product at a competitive price, and they currently sell many state-of-the-art multifunctional printers.
Environmentally Conscious Brand
Given the rise of global warming, the need to help preserve the environment and its valuable resources has never been greater than it is today. Fortunately, Xerox continues to push the envelope in terms of producing leading-edge products that are environmentally friendly and energy-efficient.
As a result, you can not only reduce your carbon footprint at the office but also help boost the reputation of your company being an eco-friendly enterprise. This may help you retain your existing clientele while also gaining new customers in the process. Going with a Xerox printer or scanner will also help reduce your utility bill, thanks to their energy-efficient features.
In fact, going with one of their cutting edge multifunctional printers will reduce the number of office products and supplies that you need to purchase, and will also save space that could be put to better use.
Built for Your Business Needs
Xerox scanners have multiple options to choose from based on the needs of their diverse clientele. For example, if space is an issue, then you can choose a small yet powerful Xerox scanner that can easily be moved from one office area to another, while still being able to produce up to 1000 scans per day.
Or maybe you need something more versatile in order to scan a wide range of documents like magazine and book pages, passports, messy papers, forms, or even odd-shaped papers. You can opt for one of their flatbed or desktop scanners, which can scan up to 1,500 documents per day.
They even have several models that are built for speed. These can scan anywhere from 9,000 scans per day for workgroup purposes to 35,000 scans a day for mid-production purposes.
If you would like to learn more about the benefits of Xerox's top printers or Xerox's top scanners, call DOS Canada at 647.557.2065 or contact us here.