How Managed Print Services (MPS) Increase Sustainability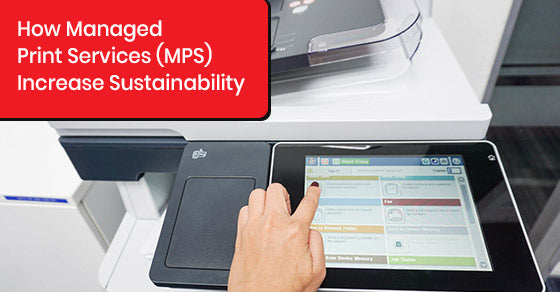 Virtually all companies use printers on a daily basis; however, many companies are unaware of just how important printing is to ensuring strong sustainability practices in their business. 
In today's economy, businesses must demonstrate how their business processes have been optimized to function sustainably. However, you will need to work with your MPS provider to do this, as not all of them are created equal. 
Here, we will discuss business printers and MPS and how they can augment sustainability.
Usher in the Digital Age
If you have been working with paper documents up to this point, then you are inevitably contributing to pollution and waste issues. However, you can bypass such issues by using MPS to digitize your paper documents. 
For example, you can utilize the Optical Character Recognition feature to take text from hard copies of documents and convert them into a digital format in a very advanced and accurate manner. 
In fact, the data that has been converted can be saved and classified in its appropriate position automatically if needed. You will no longer be required to enter your data manually, nor will you have to deal with sorting and filing either. 
In addition, thanks to the impressive accuracy that the feature provides you with, no longer have to worry about excess paper use, which may be a requirement to handle copies that are laden with errors.
Enhance Mobility
Unbeknownst to many people, digital data is far more mobile than a paper trail and is also very nimble. When you use MPS, you can enjoy new technologies that are very mobile and allow for easy and efficient communication, as well as easy tracking of pertinent intel between employers and their workers. 
Those mentioned above can be achieved with just a few swipes or clicks. You will no longer have to make many hard copies of information, receipts, or contracts to share with your staff. 
Any data that has been captured from papers or images can be converted into a digital form so that it can be sent almost instantly to your entire team, or particular individuals if need be.
E-Signatures
For many employers, taking the paperless route makes sense. But what happens when you hire a new employee and need them to sign a document to make it official? More often than not, companies will be forced to print out dozens of papers for their new arrival to sign, and that problem is further compounded when they need to hire a dozen or more employees. 
The same can be said for documents that need to be signed by, say, over a hundred new clients. From energy and ink to paper and other related resources, printing thousands of documents for your employees and clients to sign will quickly add up.
Not only will you need to create the forms, but they will also need to be delivered to the right people or personnel. Fortunately, e-signatures eliminate the cumbersome and rather inconvenient and energy-intensive need to print documents. 
E-signatures eliminate the need to sign documents that have been printed on paper. You will receive the documents, with all required signatures, within a few minutes. This makes the whole process easy, quick, convenient, and paperless, which also results in zero waste being produced.
Quickly Identify "Pain Points"
When you work with an MPS establishment that provides state of the art business printers, you can rest assured that they will help you quickly identify any pain points that are preventing you from meeting your sustainability objectives. 
They can help you boost the efficiency of your company's printers and reduce the amount you spend on consumables, reduce the amount of waste that your company generates, and also lower your energy consumption levels by a marked amount.
Green Reporting
With MPS, you can take advantage of smart devices that will identify the energy usage rate of your print fleet with notable precision. The tracking reports that are produced are also quite extensive, so no corner will be left unturned.
The reports will also provide details on the expenditures associated with your company's printing habits every month, and also identify which company departments are utilizing the most resources. 
The reports will also pinpoint the exact areas that can be improved to maximize energy efficiency in the business. As a result, you will be able to save time, energy, money, and other vital company resources that can be put to better use.
Augment Security Measures and Protocols
Some proprietors worry that going green will comprise the security of their enterprise, when, in reality, green technologies can improve the security of a company when implemented correctly. Many of the MPS solutions that are available today will allow users to set access permissions on document sharing, and printer settings can also be configured so that a PIN will be required to print. 
The result is that you will have complete control over what can be printed, and who can print what at any given moment with a few simple modifications.
If you would like to learn more about the benefits of MPS, or any of our single-function printers, call DOS Canada at 1-647-547-9867 or contact us here.