Printer vs MFP: What's the Difference?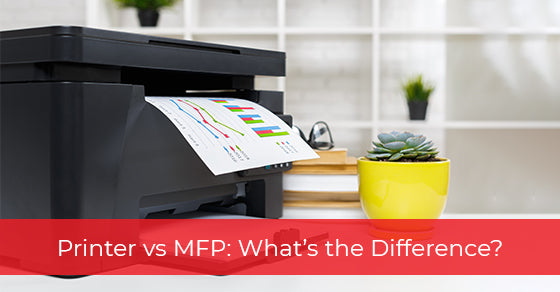 When choosing a printer for your office space, you'll likely encounter a number of great options, which can make the process of choosing one complicated. Because of the choice in the marketplace, you're best off speaking with a seasoned professional that understands the printing technology and can help you to determine which system best suits your business. Our team at DOS Canada are experts in this area and in this post, we'll explain the difference between a printer and a multi-function printer, and explain how to choose the right system for your company.

The Difference Between a Normal Printer and an MFP

The most important thing to note when deciding between a normal printer and an Multi-Functional Printer is that an MFP can serve many purposes within your business. While you might currently only require a printer for the office, you might also require a scanner or a copier in the future, and choosing the right MFP can help you meet this demand. An MFP is a printer that prints paper documents while also offering additional functionalities. Many MFPs now offer fax capabilities, scanning options, and advanced copying options.

How to Choose Between an MFP and a Printer

Delving more into the benefits that each type of system can bring to your business can help you decide whether you wish to buy an MFP or a normal printer. The below factors should be taken into consideration during this process:
Space in the office

If you don't have a significant amount of space in your office, you might be able to improve upon the available space by working with an MFP. An MFP will allow you to remove the scanner, fax machine, and copier from your office and use the system to serve a range of purposes. This will give you more room for adding desks in the office when your team numbers increase. 

Digitization

As a team leader, your main objective is likely improving the productivity of your staff. Choosing an MFP for your office can help to streamline productivity by allowing you to digitize many of the processes that would otherwise be completed manually. For example, instead of sending a file as a batch to your printer in the office, you might use an MFP to email the document through the system ready for printing at the client's office. This helps save your team time and improves their ability to network with other colleagues and clients in faraway offices

Security

One important consideration when choosing between an MFP and a standard printer is security. As with any network-connected system, your MFP can be hacked by those with criminal intentions. Some companies choose a standalone printer for use in their offices to mitigate the potential for criminals to access in-house and client data. It's important to note, however, that MFP security is improving all the time, and printer manufacturers are working with the top IT security professionals to reduce the threat of network attacks on MFP users.


Recurring costs

As with an investment in your office structure, the recurring costs of adding a new printer are a key element to take into consideration. While the initial investment in an MFP is likely to be higher than it is for a standard printer, your cost per page will also be lower when you choose an MFP. You might also consider the recurring maintenance costs. When you're attempting to keep several systems in peak operational condition, you'll find that you spend more on maintenance than you would simply by working with one unit. It's the reason that MFPs are a great choice for the cost-conscious business owner.
Questions to Ask When Buying a Printer
Now that you have a little more information about the factors to take into consideration when choosing between an MFP and a printer, let's review some of the questions you should ask your printer supplier when buying the latest products:
How much maintenance does the system require?
Maintenance should be considered carefully when evaluating your options. Many companies offer maintenance plans for their equipment but if you're not covered under a warranty or directly with a maintenance plan, you should find out more about the levels of service required for the system.
How user-friendly is the system?
When investing your company's capital in a new printer product, you should take into careful consideration the levels of training your team requires to use the printer. Are they able to use the printer immediately or will they have to undergo training using the printer software? Are there any additional areas that require further training before you can integrate the printer within your offices?
Can the printer meet your demands?
Consider the demands of your office team carefully before choosing a new system. You should take into consideration, for example, how much printing your team completes on a daily basis and ensure that the printer is able to meet this demand. In many cases, companies struggle when their office equipment is not designed to keep up with their team. Consider also how your team might grow in future, and choose a system that aligns with your growth plans.
What are the additional costs involved?
When choosing new office equipment, you should think beyond the immediate purchase and any future maintenance. Consider for example the consumables costs — ink, paper,
software
— for the printer and how much these costs might affect your bottom line. By taking the full array of costs into consideration you can mitigate financial challenges over the long-term.
To learn more about choosing the best printer for your needs, call DOS Canada at 1-877-467-4277 or contact us
here
.